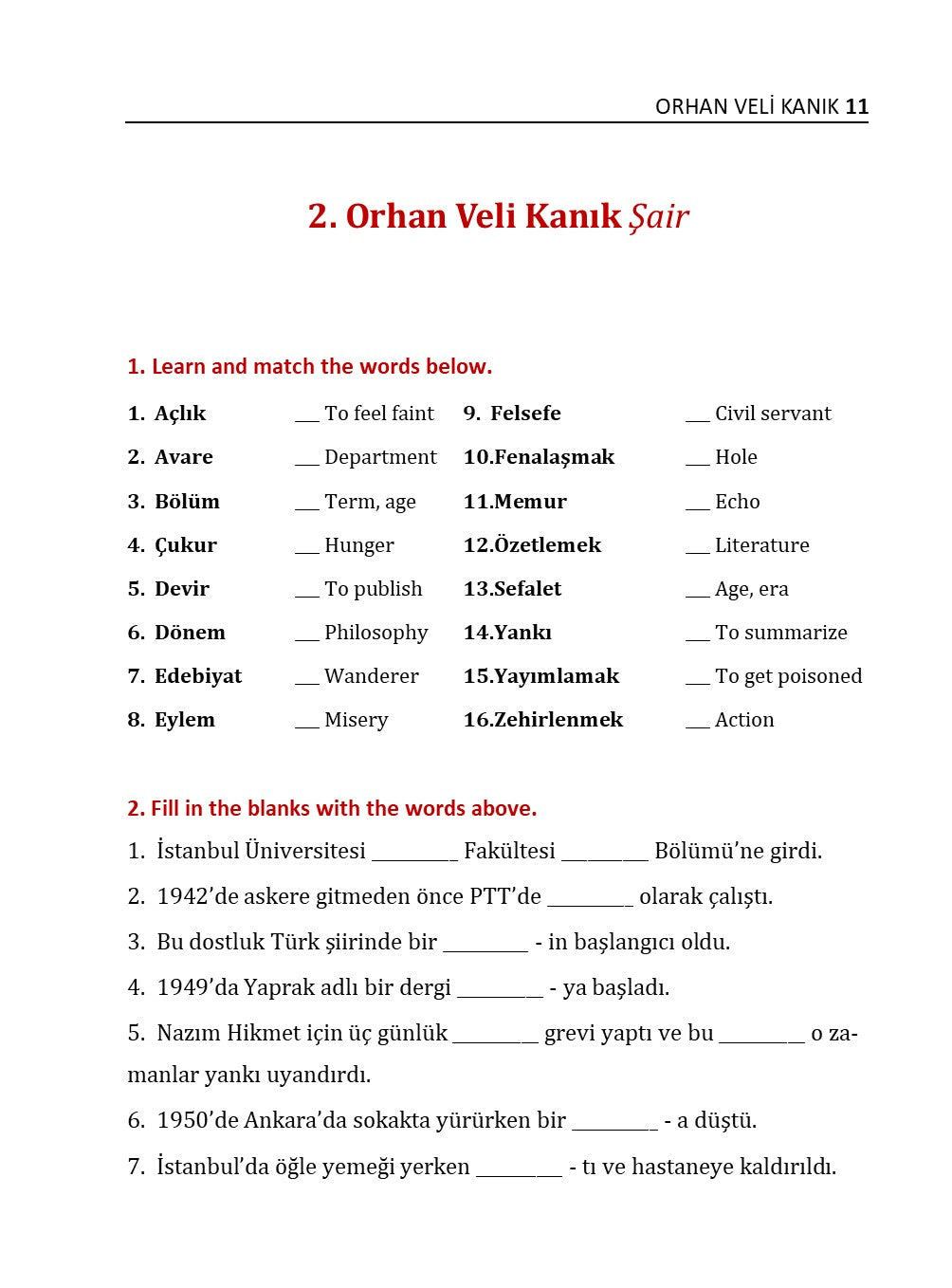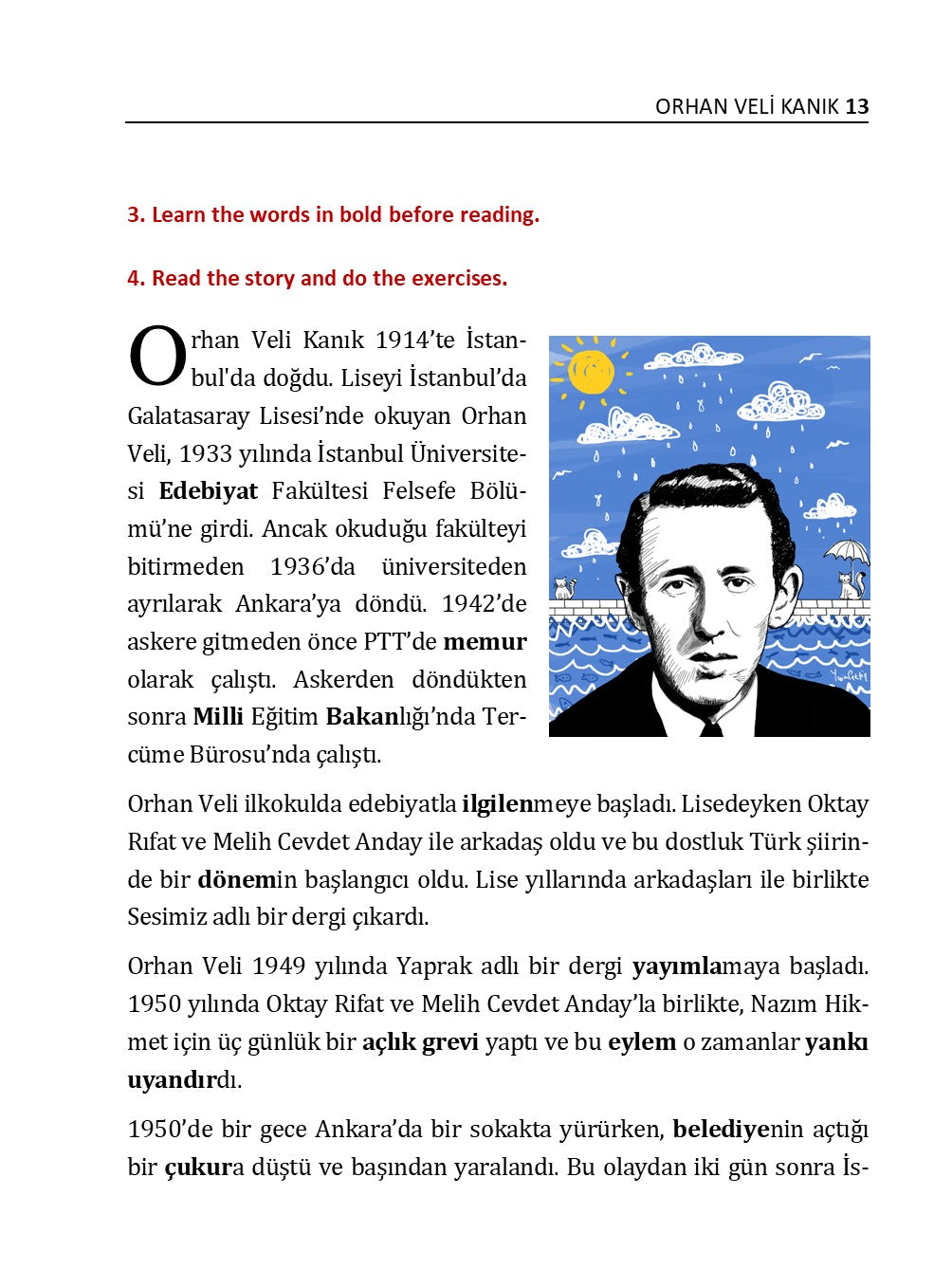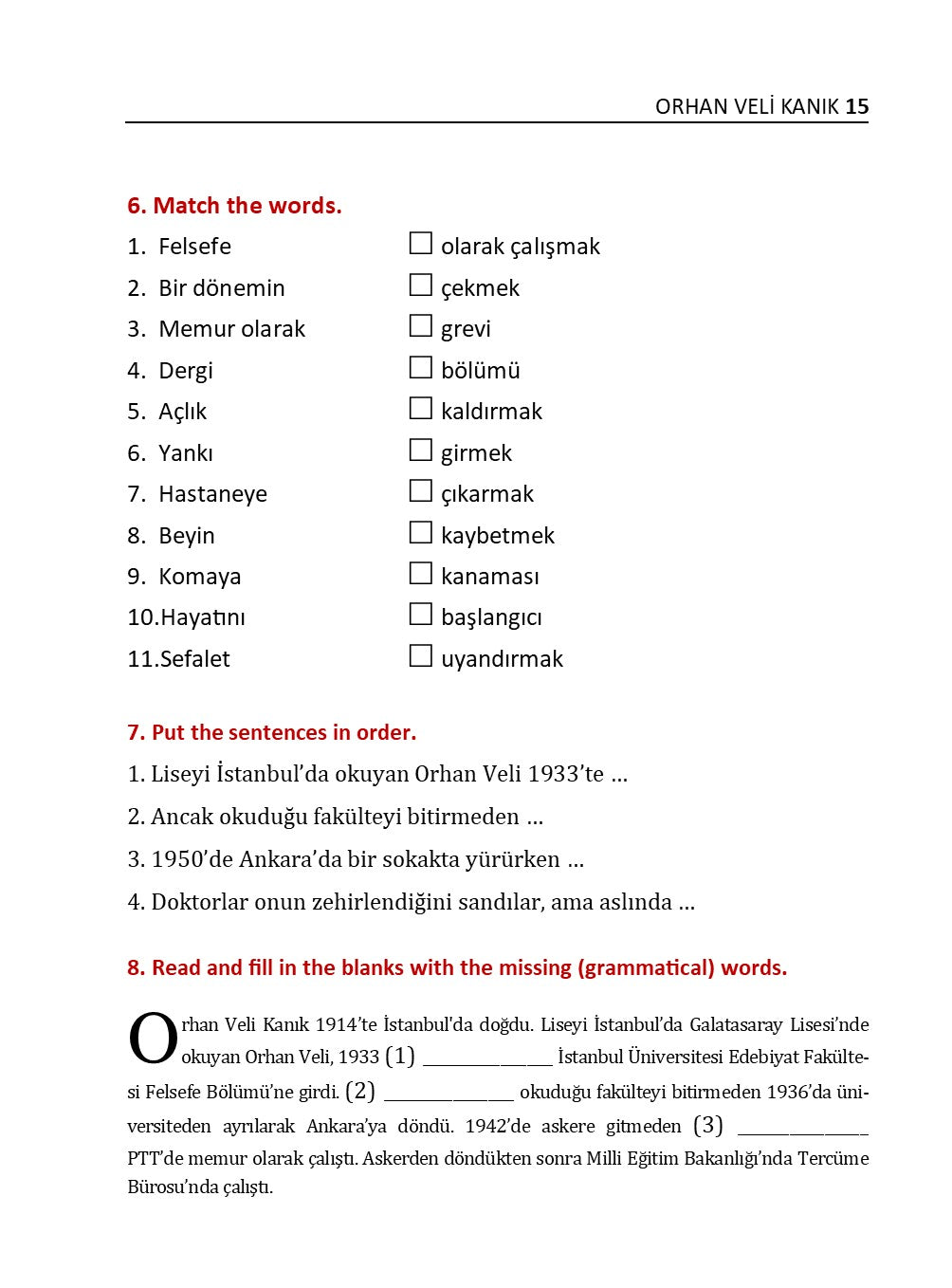 Guaranteed Safe Checkout
Turkish Biographies 3
Share
INFORMATION
Learn Turkish yourself with Turkish Biographies 3, a Turkish easy reading book with exercises for intermediate (B1) Turkish language learners.
Turkish Biographies 3 is a collection of simplified biographies of famous Turkish singers, authors, actors and acresses, footballers, artists and journalists. Turkish Biographies 3 is ideal for intermediate Turkish language learners who want to read easy Turkish texts and improve their reading skill as well as learn new vocabulary while reading.
Turkish Biographies 3 includes 10 chapters with vocabulary exercises before the text to learn the new words and expressions in the text and comprehensive exercise after the text to understand the text better before reading one more time.
Turkish Biographies 3 can be used for self-study, study with a Turkish teacher and part of a beginner Turkish course as a supplementary material.
Specifications
Intermediate, PDF only or PDF + MP3, 82 pages, exercises, word list, without audios
Visit Dem Turkish Center for more information about B1 Turkish language materials
DISCOUNT
Anatolian Folk Tales 3 is part of the Turkish language packages below. Download Turkish language packages with discount:
Download ALL Turkish Language Books & Lessons (Intermediate) with 20 self-study lessons & 10 book including this book - 40 % OFF SOON
Download Turkish easy reading books (without audios) including this book - 25 % OFF! SOON
Download Turkish easy reading books (with audios) including this book - 25 % OFF! SOON
HOW TO
How to download:
Downloading our Turkish language learning materials is very easy. Simply:
Add the products to the shopping cart.
Pay online by your credit card using www.iyzico.com, a secure online payment service in Turkey.
You will be redirected a download page on DTB.COM to download your material(s) instantly after completing the payment.
You will also receive an email including the download links.
See detailes information for downloading our materials.
COURSES
Dem Turkish Center Membership
Become a DTC.COM Member and download Turkish language materials (including this material), get online support and take Turkish classes online to revise & practice what you have learned. Visit Dem Turkish Center for more information.
REFUND
Since DemTurkishBookstore.com offers digital goods, we do not issue refunds once the order is accomplished and the product download link is sent. As a customer you are responsible for understanding this upon purchasing any item at our site.
CONTACT
Please get in touch with us via email at info@demturkishcenter.com or aliakpinar@hotmail.com, by Skype at dem.turkish.center or Whatsapp (+90 541 551 43 23) (We prefer emails or chat instead of phone calls because we are usually busy with teaching and may not be able to answer your call,) if you have any questions or problems with your download or products.
Guaranteed Safe Checkout