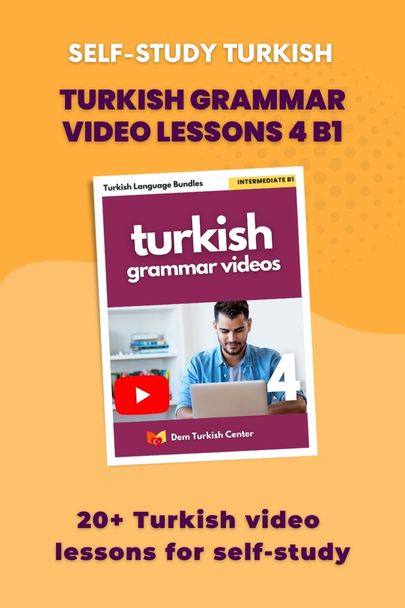 Guaranteed Safe Checkout
Turkish Grammar Video Lessons 4 B1
Share
INFORMATION
Learn Turkish yourself with short, practical Turkish grammar practice video lessons for intermediate learners (PI)
Download practical, short (5, 10, 15, 20 minute long) Turkish language learning videos (grammar practice video lessons), study and practice Turkish yourself everyday, 2, 3, or 4 times a week and learn Turkish language yourself at your own pace, wherever you are!
How to study
You can download either individual videos that you need to study or a bundles of videos to make a short self-study Turkish course.
They are short, self-study Turkish video lessons. Study the lessons either every day or 2, 3 or 4 times a week at your own pace.
The duration of each page of the lesson is 15 seconds (except for the pages with audios). Simply pause the video, study the page and play again.
OPTIONS:
Download this bundle and study yourself.
Download this bundle with a 4 month online support / help (+ 40 USD) and get online help from a teacher while studying yourself (email, Whatsapp, Skype - Emailing and messaging only.
SAMPLE LESSONS
LESSONS
The lessons in "Turkish Grammar Video Lessons 4 B1" are:
Adjective Clauses (Suffix - diği)
By Doing (Suffix - erek)
Causative (Suffix - dir)
Contrast: Despite / Although
Past Ability: Could & Was Able To
The Word "Diye"
Future Verb Forms
Habitual Past: Used To
Indirect Reported Speech
Probability: May & Might
Object Clauses (Suffix - diğini)
Object + Pronouns + Infinitive
Passive Voice
Relative Clauses: Who / Which
Whether Or Not
DISCOUNT
Download discount bundles:
Download ALL Self-study Turkish Lessons 4 (B1) - 30 % OFF.
HOW TO
Downloading our Turkish language learning materials is very easy. Simply:
Add the products to the shopping cart.
Pay online by your credit card using www.iyzico.com, a secure online payment service in Turkey.
Download instantly after completing the payment.
You will be redirected to DemTurkishBookstore.com download page to download your order instantly.
You will also receive an email to download your products.
IMPORTANT When you complete your purchase, you will receive an email from us to download "Turkish Grammar Video Lessons 3 PI" because the videos are too big to store in the cart.
COURSES
Dem Turkish Center courses are:
Self-study Turkish Courses Take Self-study Turkish Course 1, download Turkish language materials (practical video lessons, worksheets or books for self-study), study Turkish yourself and get online support from your Turkish teacher while studying yourself. Visit Self-study Turkish Courses for more information.
Dem Turkish Center Membership Become a DTC.COM Member and download Turkish language materials (including this material), get online support and take Turkish classes online to revise & practice what you have learned. Visit Dem Turkish Center for more information.
REFUND
Since DemTurkishBookstore.com offers digital goods, we do not issue refunds once the order is accomplished and the product download link is sent. As a customer you are responsible for understanding this upon purchasing any item at our site.
CONTACT
Please get in touch with us via email at info@demturkishcenter.com or aliakpinar@hotmail.com, by Skype at dem.turkish.center or Whatsapp (+90 541 551 43 23) (We prefer emails or chat instead of phone calls because we are usually busy with teaching and may not be able to answer your call,) if you have any questions or problems with your download or products.
Guaranteed Safe Checkout