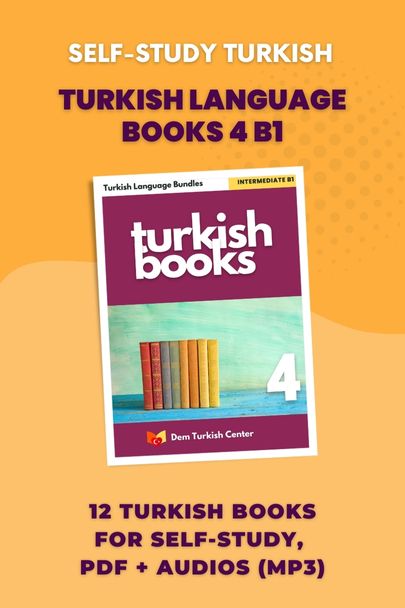 Guaranteed Safe Checkout
Turkish Language Books 4 B1 (PDF + MP3)
Share
Information
Download Turkish Language Books 4 B1 (Intermediate) and study Turkish yourself
This is a self-study Turkish language bundle including 12 Turkish language books for intermediate (B1).
TURKISH LANGUAGE BOOKS
Turkish Grammar Workbooks 4 (Worksheets), Turkish Vocabulary Developers 3, Turkish Dialogues 4, Turkish Questions 3, Anatolian Folk Tales 3, Anatolian Myths 3, Funny Stories 3, Istanbul Guides 2, Strange News 3, Turkish Biographies 3, Turkish Short Stories 2, What Is What 4.
Intermediate (B1), PDF only or PDF+MP3, audios (MP3), answer keys.
PRICE
OPTION 1 12 self-study Turkish language books, PDF only is 24.70 USD (instead of 32.90 USD - 25 % OFF!)
OPTION 2 12 self-study Turkish language books, PDF + MP3 is 31.50 USD (instead of 41.90 USD - 25 % OFF!)
How to download
Downloading our Turkish language learning materials is very easy. Simply:
Add the products to the shopping cart.
Pay online by your credit card using www.iyzico.com, a secure online payment service in Turkey.
Download instantly after completing the payment.
You will be redirected to DemTurkishBookstore.com download page to download your order instantly.
You will also receive an email to download your products.
IMPORTANT Your download includes only the book & lessons (pdf), not the audios because they are too big to store at the store. You will find links to our Google Drive to download the audios after downloading your books & lessons.
DTC Turkish Course
DTC Turkish Course is a membership course program (Site Membership). Simply become a member, download Turkish language learning materials (You will have the full Access to the bookstore), study Turkish yourself, get online help while studying and learn Turkish yourself at your own place with your Turkish language teacher!
Visit Den Turkish Center for more information »
Refund Policy
Since DemTurkishBookstore.com offers digital goods, we do not issue refunds once the order is accomplished and the product download link is sent. As a customer you are responsible for understanding this upon purchasing any item at our site.
Contact
Please get in touch with us via email at info@demturkishcenter.com or aliakpinar@hotmail.com, by Skype at dem.turkish.center or Whatsapp (+90 541 551 43 23) (We prefer emails or chat instead of phone calls because we are usually busy with teaching and may not be able to answer your call,) if you have any questions or problems with your download or products.
Guaranteed Safe Checkout